Direct thermal to electrical energy conversion (the Seebeck effect) or electrical to thermal energy conversion (the Peltier effect) can be accomplished using compact, solid-state thermoelectric devices. Although compressor-based cooling has been around for a long time, in which thermal energy is absorbed and released as the working fluid undergoes expansion and compression and changes phase from liquid to vapor and back, respectively, semiconductor thermoelectric coolers offer several advantages over conventional systems, such as moving mechanical part-free that makes the system rugged, reliable, and quiet; no ozone-depleting chlorofluorocarbons; precise temperature-control (< 0.1 Celsius) and being extremely compactable. These unique advantages are excellent for very small applications such as for cooling electronic components as well as for those military devices that are trying to be stealthy and avoid detection, such as a component in a submarine. Despite these advantages, for the time being the applications using a thermoelectric device are still restricted because this cooling technology is two or three times less efficient than a household refrigerator or air conditioner. Therefore, it is very important to improve the efficiency of a thermoelectric "cooler" by developing novel thermoelectric materials.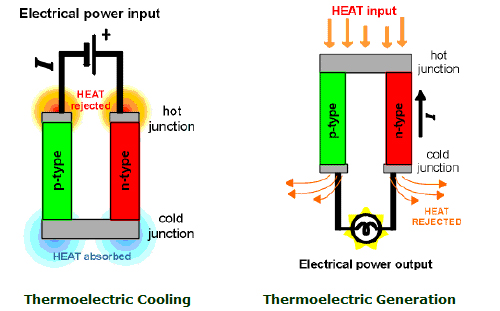 The potential of a material for thermoelectric applications is determined by the material's dimensionless figure-of-merit, ZT,
T = S
2
σT/(k
e
+ k
L
)
Where S is the Seebeck coefficient, s is the electrical conductivity, and k
e
and k
L
are the electronic and lattice components of the thermal conductivity, respectively. Thermoelectric materials now in use have a figure of merit of about 1. Large values of ZT require high S, high s, and low (k
e
+ k
L
). Since an increase in S normally implies a decrease in s because of carrier density consideration, and since an increase in ' implies an increase in ke as given by the Wiedemann-Franz law, k
e
/' = L
o
T (Lorentz number L
o
= 2.45 x 10-8 V
2
/K
2
), a good thermoelectric material should at least have low lattice thermal conductivity to prevent thermal shorting. Therefore, recent efforts to improve the figure-of-merit were made in two directions: exploring novel skutterudite materials and reducing the dimensionality of typical materials (such as Bi, PbTe and Bi2Te3) into nanoscale. The Figure here illustrates a typical solid-state thermoelectric cooling device using semiconductor materials. The aim people are working for is to achieve the ZT to 2 ~ 4.
Recently, researchers have realized that quantum confinement effects can be exploited to increase the figure-of-merit. Quantum confinement occurs when one or more of the physical dimensions of a material approach the mean-free-path of a carrier (electron or hole) as in GaAlAs quantum well superlattices and nanometer-sized particles of semiconductor or semimetal materials. Generally, quantum confinement increases the Seebeck coefficient due to altered electronic density of states and lowers the lattice contribution to the thermal conductivity due to selective phonon scattering and phonon confinement.
In our lab, we are exploring all the feasible routes to "transfer" the most promising thermoelectric materials, most of which are semicondictors, into nanophase by developing various well-designed nanostructures (e.g. quantum dots, nanowires, nanorods and nanoplates) with phase-, size-, shape-, and distribution-control. We hope to take advantage of quantum-confinement-effect (in which nanometer-scale structures of these materials could significantly increase phonon scattering, leading to a low thermal conductivities) and nano-manipulation (in which the electrical conductivity may be significantly increased) to enhance the figure of merit and to achieve state-of-the-art thermoelectric materials.
Related Links:

ITS


Nolas' group

Dresselhaus

Kanatzidis

G. Chen

Lincoln-Lab

Tritt

Stokes
Project Sponsored by: