Novel materials with surprising and sometimes useful new properties are often realized by modifying the structures of known materials without altering their composition. One of the approaches is to apply a very high pressures of up to 100 GPa (100GPa = 1,000,000 times atmosphere pressure) to a material. A classic example is graphite, a soft and opaque material with a loose layered structure, which can be turned into ultra-hard, transparent diamond, a crystal with cubic symmetry. Unlike diamond, which retains its structure even after the pressure is released, most high-pressure structures are metastable, and return to their unpressurized form when pressure is released. For example, sulfur, which is superconducting under pressure, is not useful as a superconductor because this property is lost when the pressure is removed. A long term goal of many materials scientists is to make high pressure materials that retain their properties even at ambient pressure.(1)
In collaborating with CHESS @ Cornell University, our group has developed a new approach of exploring the pressure-tuned structural stability and phase transition of random amorphous and assembled order nanoparticles using high-pressure SAXS and WAXS techniques (Figure 1).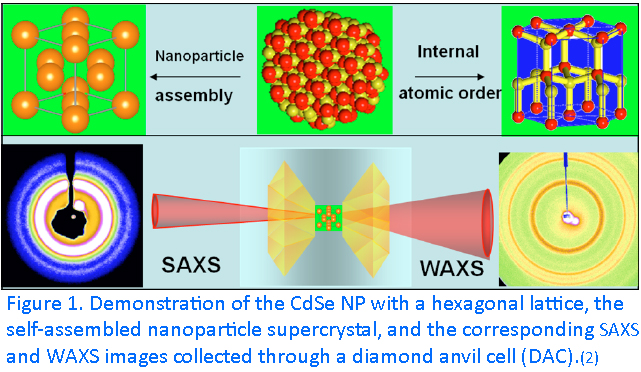 We focus our high-pressure investigation on "hot materials" including semiconductor nanoparticles such as lead chalocogenides and metallic nanoparticles such as Pt-M alloys. We recently demonstrated that the semiconductor PbTe has a high-pressure-tuned metastable structure that can be retained at ambient conditions.(3) This material also shows, for the first time, a reversal of a so-called Hall-Petch relation relating the structural stability to particle size (Figure 2). In addition, they went a step further to show that by improving the protocol for synthesis, useful forms of PbTe can be created without any pressure at all. This important result raises the possibility that nanometer-sized PbTe semiconductor materials could someday serve a host of useful technological applications, such as thermo-electronics, energy conversion, etc.(1)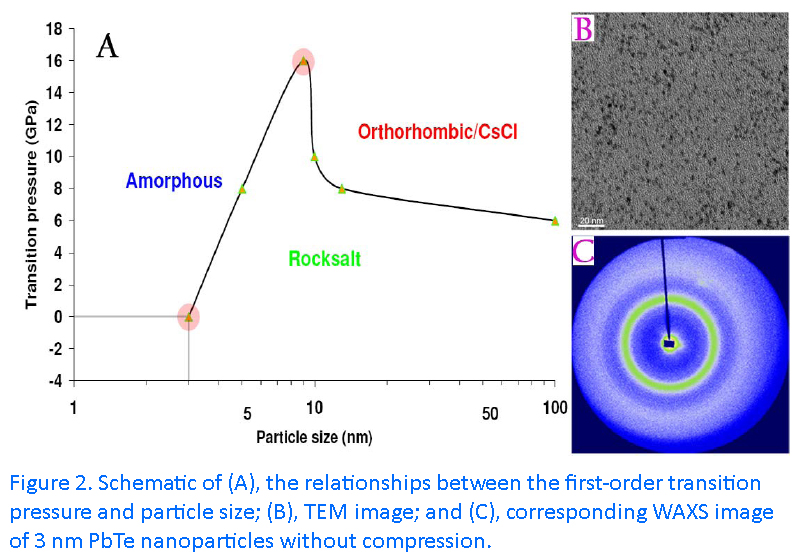 References:
(1)
http://news.chess.cornell.edu/articles/2011/CompareWang.html
(2) Wang, Z. W.; Chen, O.; Cao, C. Y.; Finkelstein, K.; Smilgies, D. M.; Lu, X. M.; Bassett, W. A.
Rev. Sci. Instrum. 2010, 81, 093902
.
(3) Quan Z.; Wang Y.; Bae, I. T.; Loc, W. S.; Wang, C.; Wang, Z.; Fang J.
Nano Lett. 2011, 11, 5531
.